Article by Sara Fraser of the CBC
We've talked about where to find P.E.I.'s best lobster rolls and fish and chips — now, what about seafood chowder?
From Souris to Tignish, most restaurants and cafés have a pot bubbling on the stove.
We asked some experts to weigh in on where to find the tastiest bowl on the Island.
The tourism boss
Robert Jourdain owns the Little York Bed and Breakfast and is also the president of the Tourism Industry Association of P.E.I., requiring him to attend meetings across the Island and providing him opportunity to sample chowders from many establishments.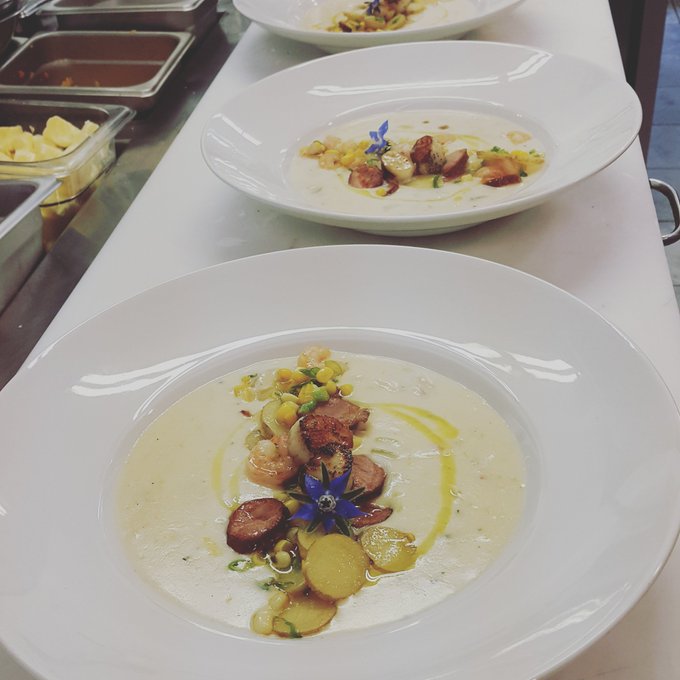 "I love chowder and tend to judge a restaurant in their ability to produce a good one," Jourdain said.
He has two contenders so far this summer that require him to do further "research." And his standards are exacting.
"For me a chowder needs to be rich and creamy but not so thick it reminds you of wallpaper paste. It needs to have boiled potatoes that are still holding their shape, soft but not mushy, good chunks of seafood and lots of shellfish, and if possible a nice slick of melted butter floating on top," he said.
"It also has to come to the table piping hot — not warm, but hot!"
Chef Chris Colburn's seafood chowder at beautiful, historic Dalvay By the Sea in Dalvay fulfills Jourdain's requirements.
"Rich and creamy with fish and shellfish and enhanced with seared scallops that are to die for, and chorizo sausage and black truffle. It is many spoonfuls of amazing flavour!" raves Jourdain.
He's equally effusive about The Red Door Oyster Co. Café in Stanley Bridge.
Chef Ross Munro's traditional chowder is rich and creamy and comes with a few freshly-steamed shellfish still in their shell and lots of other seafood and served piping hot, as well as a freshly-baked biscuit and butter.
"You can tell this chowder is made with a lot of attention of textures and flavours," said Jourdain.
"It's a robust chowder for sure," confirms Red Door's owner/chef Ross Munro.
He changes the fish he uses based on what's available, thickens the chowder naturally with Yukon Gold potatoes, and uses plenty of cream and bacon.
The seafood seller
Who better to give an opinion about the best use of seafood than Mitch Jollimore, owner of Basin View Seafood in Malpeque, P.E.I.?
It's a toss-up between two local eateries, said Jollimore: O'Neil Home Gallery and Café in Malpeque Corner and Ship to Shore Restaurant and Lounge in Darnley.
"O'Neil's has a haddock, lobster, scallop dish with custom stock. You always get a homemade biscuit, it's really good," said Jollimore.
The café says the chowder also contains loads of cod, crab and clams. It's $8 a cup or $13 a bowl. O'Neil's is owned by oil painter Scott O'Neil and Linda Crozier is the chef, who boasts all ingredients are local and fresh, and the homemade biscuits are buttermilk.
Ship to Shore restaurant in Darnley, closed for the past few years, has new owners from off-Island and Jollimore loves the clam chowder there.
"They use all local flavours with a from-away spin, and it's absolutely delicious," enthused Jollimore.
It's $8 a cup or $12 a bowl, and uses Island bar clams, shallots, bacon, potato, dry vermouth and cream, according to the menu.
What you said
Dozens of you commented on Facebook about your favourite chowder.
Point Prim Chowder House on the Point Prim Road in Belfast was a popular choice. It's right on a fantastic south shore beach and next to what the restaurant's website says is the Island's oldest lighthouse.
"Harbourview Restaurant (formerly Brehaut's)," said Charlene Belsher, who owns The Old General Store in Murray River. "The chowder there is incredible — still the multiple prize-winning recipe from Brehaut's! Lots of seafood, creamy broth that is rich but not too rich. Truly wonderful!"
Other honourable mentions: The Lobster Pot in Georgetown, Holy Cow Burgers and Wings in Morell, the Blue Mussel Cafe in North Rustico, Stella's in Montague, The Landmark Cafe in Victoria, Gallant's Seafood at the Charlottetown Farmer's Market, The Dunes Café in Brackley Beach and many more.
Even the fictional Glenda's Kitchen made the list — it's a Charlottetown Festival musical theatre production starring a real chef, Glenda Landry, who serves chowder and a biscuit as an encore!